It's a little premature to provide a user's manual at this stage of development, but if you take the following with a grain of salt, and hold out hope for art improvements, you should be able to work your way through it.

Generally speaking, you will encounter a story line which will motivate your actions, but I can't describe that yet, so this is intended to document the mechanics of navigating the menus, walking the 3D world, and battling monsters.

After you start the game and sit through the loading screen (now, with Elvish!), you will find yourself on the Character Creation screen.

Character Creation

The first time you play the game, you will start on the character creation screen. It looks a bit like this: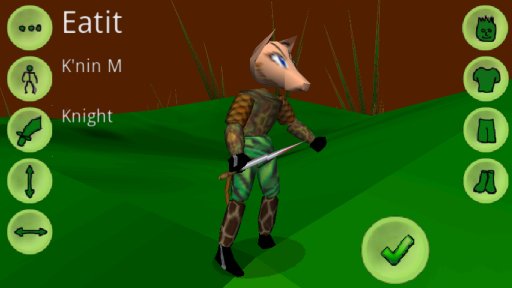 This screen offers you the choice of some customizations of your character (name, race, weapon, height, weight, face, clothing).
Tap the buttons until you see something you can tolerate (each tap randomly selects one of the available choices). Then press the green check button to accept this character and get it created.
Character Selection
If you have played before, the game will start on the Character selection screen.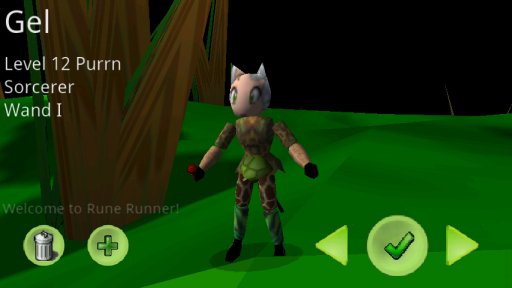 This screen lets you rummage through your existing characters (tapping the left and right arrow buttons), then start/resume that character's adventure.
Press the green check button to select this character and resume its adventure.
Press the android BACK button on this screen to exit the game.
Generally speaking, pressing the BACK button will close dialogs or exit the current game mode, eventually returning you to the Character Selection screen. One more BACK from there quits the game. Back..Back..Back...... exit.
Press the green plus sign to create ANOTHER character (you can have up to N characters.) (final value of N to be determined)
Press the garbage can button to delete the current character (after confirmation)
Your character is automatically saved when you exit the game. However, UNINSTALLING THE GAME WILL PERMANENTLY DELETE ALL YOUR EXISTING CHARACTERS.
You can, of course, re-install and start new characters, but I just wanted to be clear that your characters are NOT stored on some magic server in the sky. They are stored ON YOUR PHONE. (Android 2.2 phones can move the game back and forth to SD Card.)
Walking the World
Once in world, your character will appear roughly where you left it. Your goal is then to perform the storyline quests given to you. This will probably require a lot of walking around and killing stuff.
It's an RPG, you know the drill. Did I mention there's gold?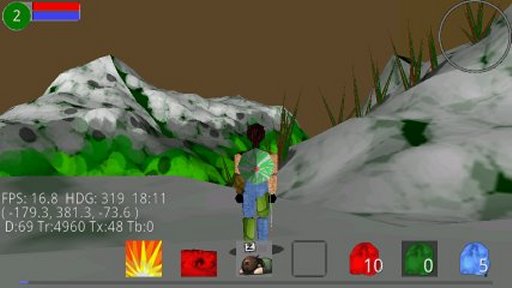 To move your character around, just drag your finger anywhere in the general middle of the screen.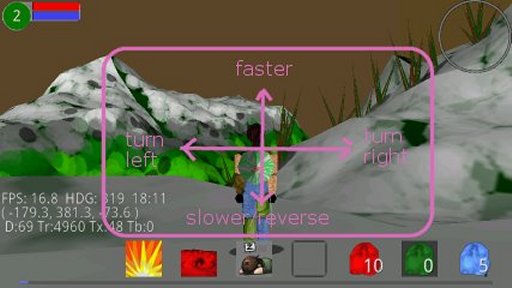 Dragging left and right will turn your character.
Drag 'up' to speed up and drag 'down' to slow down or stop. Your character will keep moving at its current speed until you stop it.
You can also drag down (from stopped) to get a little reverse action going.
You may have played games that use a virtual joystick to move around. I found that forcing you to hold your finger down to move was surprisingly tiring and painful, even after a short period. Maybe that's just me.
Changing the Camera Angle
There are a lot of beautiful vistas to enjoy (one hopes) so you will want to be able to move your camera angle around without actually moving your character.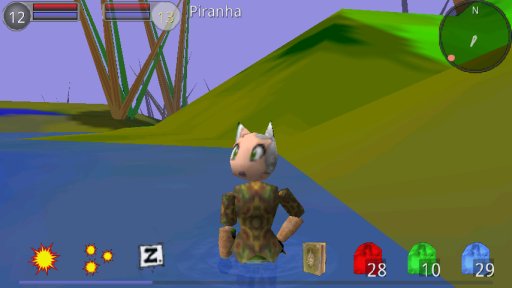 To control the camera, drag your finger along the edges of the screen. (roughly in the areas shown below).
Your finger drag is either steering your character (middle of the screen), or adjusting your camera (edges of the screen). It might take you a moment to get a feel for just how close to the edge you have to be.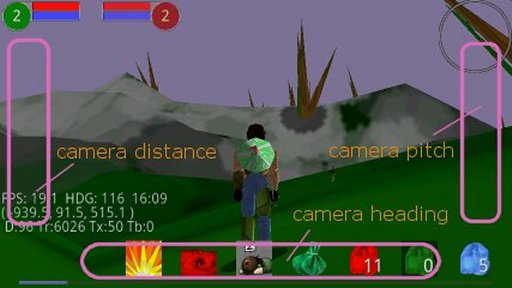 Dragging left and right along the bottom edge of the screen adjusts the camera's heading.
Dragging up and down along the right edge of the screen controls the 'pitch' (up/down).
Dragging up and down along the left edge of the screen allows you to zoom in and out.
Don't be afraid to drag right on top of the buttons on the bottom. They should ignore your dragging, and just react to being 'tapped.'
Selecting a Target
As you walk around, you will encounter bad things.
Here we see someone in the distance ahead of us. Because we had no target before he showed up, the game has automatically targetted him for us.
While targeted, he has a red shadow, a red arrow over his head, and a life meter at the top of the screen, right next to our own.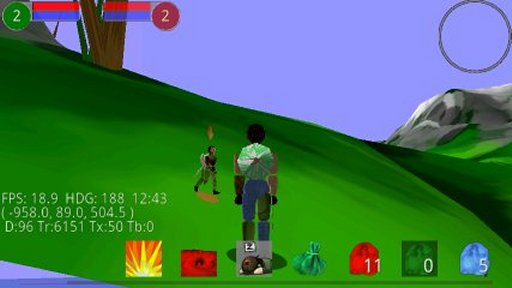 We can't attack anything unless we target it first.
To select a target, just tap on the 3D character itself. Alternatively, tap on the target life meter to cycle between available targets.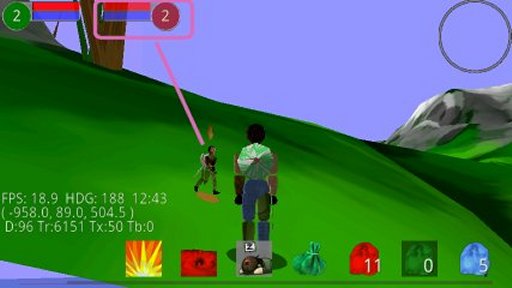 The life meters show the hit points (red) and mana points (blue) of yourself and your current target. Your goal is to make his red meter go empty before yours does.
The life meters also shows a character's "level."
Battle starts when you attack him, or he attacks you, and continues until one of you is dead (or runs away successfully).
This is NOT a turn-based game. You are free to attack whenever you have a charged-up action available. But actions all have a recovery time before you can use them again.
There is no PAUSE button per se, but some actions (like opening the MAP screen) have a partial pause effect. Don't count on this, however, the end goal is to have no pausing whatsoever.
Action Buttons
Along the bottom of the screen are your action buttons.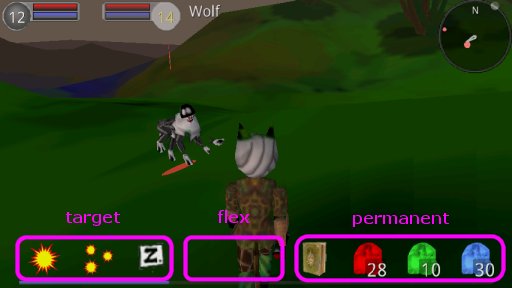 Along the far right are the 'permanent' actions which are always available.
Quest Diary (shows the quests you are working on)
Use Red Rune (health recharge)
Use Green Rune (stamina boost)
Use Blue Rune (mana recharge)
Along the far left are the buttons which vary depending on what you have targeted:
An enemy (attack buttons, unless it's dead)
A friend (no attack buttons, but you get a 'chat' button)
A Dead enemy (nothing, at present)
No Target (nothing, at present)
In the middle are the 'flex' buttons that come and go as needed:
Dismount button (when mounted)
Fishing button (when wading in water)
Farming button (when on good soil for planting)
Fighting
During a battle, your character will automatically engage in melee attacks against any nearby monster that attacks. (I mean, you don't have to push any buttons, he will just make standard attacks with his weapon, as fast as it recharges).
However, your melee attacks are not your strongest.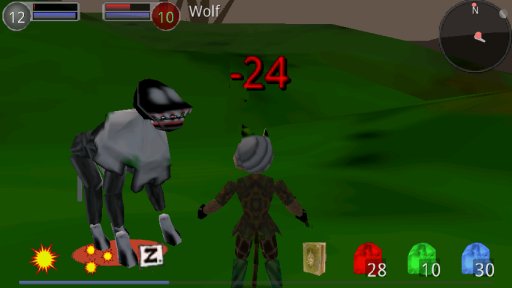 With an enemy targeted, you have three attack buttons in the left set of action buttons.
The idea is:
The left button is your biggest, most special, attack. But it uses the most mana, and has the longest recharge period.
The middle button is your 'attack everyone' attack, which is weaker, but affects all nearby enemies.
The right button is your 'stun' attack. It delivers the least damage, but has a chance to stun the enemy (both preventing him from hitting you, and possibly letting you run away)
The permanent action buttons give you quick access to your primary runestones (Ruby, Emerald, and Sapphire).
Runes have multiple uses. But for now, just accept that you can use them like health potions.
A ruby rune will recharge hit points (1/3 your total)
A sapphire rune will recharge mana (1/3 your total)
An emerald rune will give you a stamina buff.
Death
You will occasionally die, your corpse lying embarassingly at the feet/tentacles of your opponent.
You will see a dialog appear offering you the choice of popping back to life right where you are, or giving up and returning to the Select Character screen.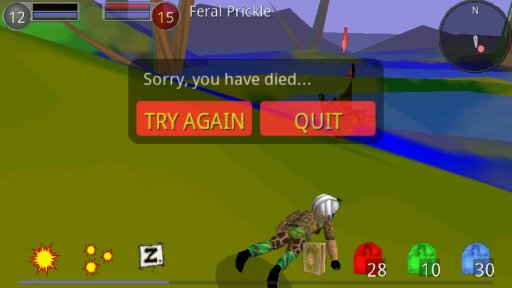 Levelling
Along the VERY bottom of the screen is a thin blue line (heh) which is your 'experience meter.'
When you kill a bad thing, or complete a quest, you earn some experience. When that meter fills up completely, you earn a 'level' and that increases all your stats a little. (more hit points, more mana, stronger attacks, better defense, etc)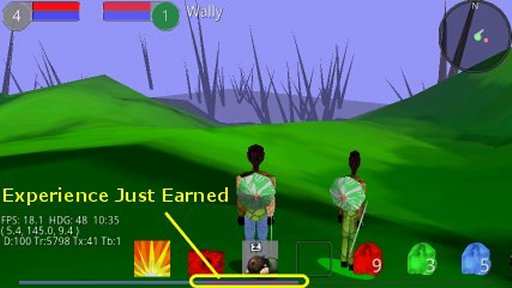 After earning experience, the experience bar lengthens and the newly exposed area 'glows' for a moment to help you revel in your achievement.
You also get a free recharge of HP and MP when you level up. Which is good because you don't want to use up all your rune stones as you need them for something other than just healing potions.
Level ups also earn you Onyx Runes, which you can use to boost your abilities, via the STATs screen.
Stats
To open the STATs screen, tap your own life meter (in the upper left of the main screen).
This opens a panel that looks like this: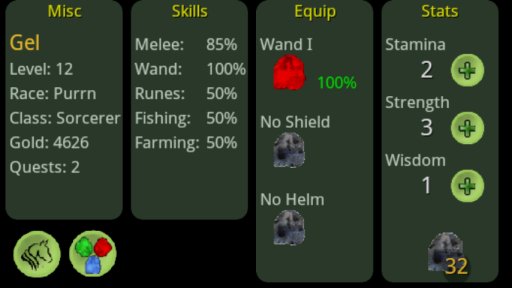 These are divided into four categories and are mostly self-evident, but the interesting bits are:
skills start at 50% (which means you have a 50% chance of success when exercising the skill) and go up a little each time you fail.
The Rune skill controls your success in rune weaving.
Each of your three pieces of major equipment (Weapon, Shield, and Helmet) can be at one of four levels (I, II, III, or IV).
Each piece of equipment may have a (single) rune attached to it. Tapping on the appropriate rune icon will open a dialog letting you pick which rune to attach.
Equipment runes take damage as you battle, and will eventually break (and disappear). You may replace an equipment rune at any time, using this screen.
While an equipment rune is in effect, its color determines which elemental effects it benefits
The percentage shown to the right of each rune is its remaining health. This starts at 100% and drops down to zero as the rune is damaged. You cannot repair a rune, you can only replace it with a new rune.
Each time you level up, you earn a few Onyx runes (black runes) and your current count of Onyx runes is shown in the lower right corner of the page
You can spend Onyx Runes to buy new ability points, boosting your Stamina, Strength, or Wisdom. Just tap the button next to the stat you want to boost.
In the lower left are the 'second tier actions'
Mounts (opens a dialog to let you choose a mount to ride)
Rune Weaving (opens the rune weaving panel)
Rune Weaving
One of the action buttons on the stats screen opens the Rune Weaving screen. This screen lets you create new runes by either weaving together or cracking apart other runes in your possession.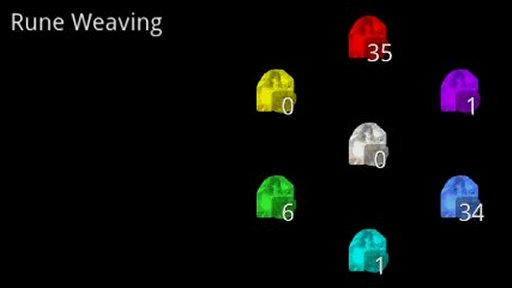 This is basically a color-mixing mini-game.
Over the course of your adventure, you will naturally collect some number of red, green, and blue 'primary' runes.
To make a new rune, just tap on the color you want. If you want a yellow, purple, or aqua rune (the 'secondary' runes), then you must weave two runes together.
For example, weaving a Yellow rune requires one red rune and one green rune. You start the weaving by tapping the Yellow rune.
If your weaving is successful, then you will have one more yellow rune, but one less red and one less green rune.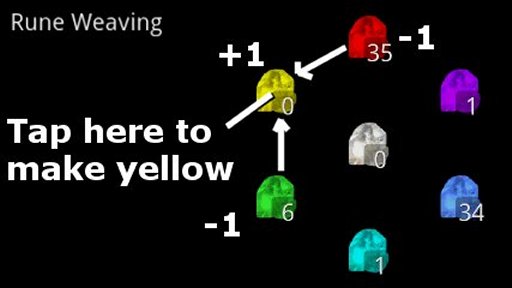 To make a Diamond (white) rune, requires weaving NOT the easy-to-get red/green/blue primary runes, but the harder-to-get yellow/purple/aqua secondary runes.
In the rare circumstance where you are desperate for a primary rune, just tap on what you need and it will 'crack' one of the adjacent secondary runes (whichever you have more of) to recover a primary rune.
Your success in rune-weaving is based on your rune 'skill' which starts at 50% (roughly 50% successful in weaving). A failed weave, or crack, consumes the source rune(s) but provides no product rune.
Fishing
After you do the proper quest, you will find yourself the owner of an invisible Fishing Net.
Fishing is easy, just stand knee deep in any pool of water and a fishing icon action button will appear. Press that button and you will cast your net.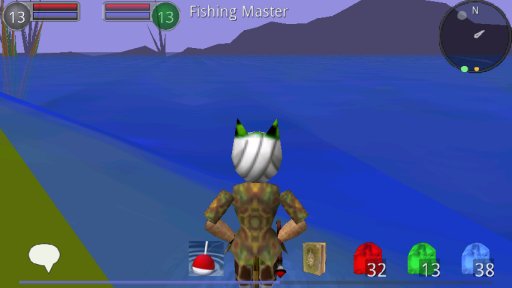 You must be IN the water, but not past your neck deep. Admire the lovely ripples.
Depending on your Fishing skill you will catch one thing or another. When you catch a fish, you automatically check if it has swallowed any sapphire runes, which you remove (without hurting the fish) and the fish is then released back to the water.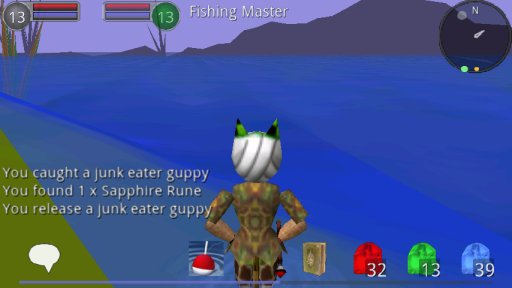 This is a fairly high yield source of sapphire runes. And non-violent.
Farming
Likewise, a different quest will get you a magic seed bag. Again, you must travel to an area with suitable conditions for planting, at which point the seed bag icon will appear (in the same flex action button spot used by Fishing).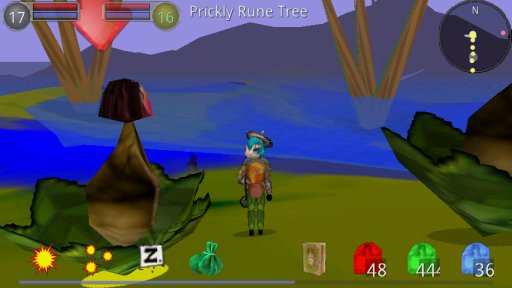 Press that button and you will attempt to plant a seed. Your Farming skill will determine your success rate.
Your magic seed bag comes with a fixed number of seeds. You may have no more than that many seeds planted at any given time.
But when you harvest a plant, you get the original seed back (it's magic!) which you can then replant (in the same place or elsewhere).
It is your responsibility to remember where you planted your seeds, and on which map. However, the map will show a tree icon for each seed you have planted, so it shouldn't be too hard to find them.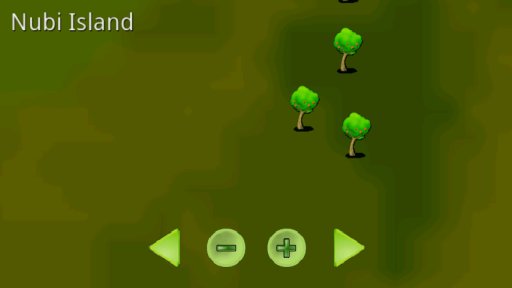 Also, your radar will show a yellow dot for each nearby plant.
To harvest a plant, you must target it, and then attack it. It will fight back, and if you win the battle you will get some number of green runes as your loot.
How many runes you receive is a function of how long you allowed the plant to grow. Full growth provides a large number of runes and takes about 24 hours (real time).
But where is a good place to plant? Hint: plants like water, but prefer 'dirt' to sand.
Mounts
As a result of questing, you will occasionally receive objects which can summon mounts. A mount is just something you can ride (like a horse) and that lets you travel faster, or somewhere you normally could not.
Once you own a mount, you can summon it via the STATS Panel. (Tap on your own health meter to open the STATS panel, then tap the MOUNTS button in the lower left. This will open a list of the mounts you know how to summon.)
Select one then tap 'SUMMON MOUNT' and you will be returned to the game, riding something.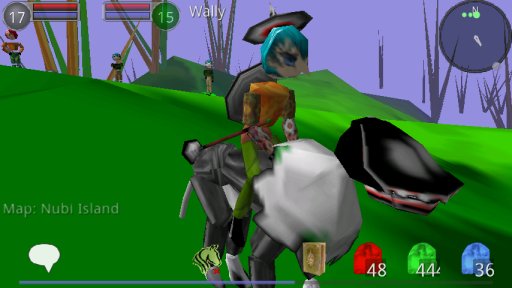 To get off of the mount, tap the dismount button on the main screen (it appears when you are mounted, and supersedes the farming/fishing flex buttons.)
Mounts come in three flavors:
Land Mounts. These increase your speed while travelling on land, but drop to 1/3 speed when crossing deep water (and walk along the bottom of the water). You are never auto-dismounted from a land mount.
Sea Mounts. These increase your speed while travelling on water. When moving forward these will float up to the top of the water. Go into 'reverse' mode to sink towards the bottom. If you halt, you will maintain your current depth. You are automatically dismounted if you ride your sea mount up onto land.
Air Mounts. These increase your speed when crossing any terrain (though some locations may be restricted against flyover.) When moving forward you will rise up to a certain height above the terrain (and crossing a hill will then push you up further). Go into 'reverse' mode to begin to lower your altitude (or just dismount to fall directly to the ground). You are automatically dismounted if you try to enter the sea on an air mount.
Being on a mount does NOT interfere with your ability to fight, unless to do so would be unfair (for example, you cannot fight from an air mount while more than a meter or so above the terrain, since otherwise your enemy might not be able to hit you back. Which would be unfair.)
Map
Tapping the compass/radar circle on the main screen opens the MAP screen (tap the phone's BACK button to return to the game)
The map screen opens to show your current location, but the left and right arrow keys can flip to other maps (but only maps you have visited, or have permission to visit)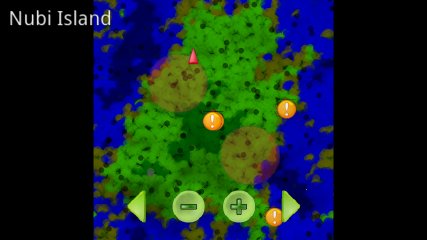 The blinking red arrow represents your current position and heading. You can use your finger to drag the map around, and the plus and minus buttons to zoom in and out on any location you like.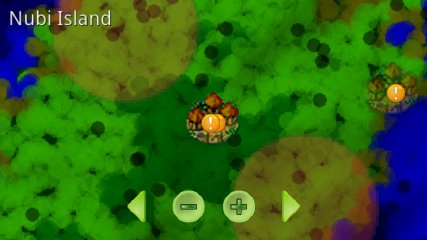 Important locations are indicated with a little village icon of some form (it will be very faded if you have not visited it yet). Larger faded circles indicate 'regions' (usually where a particular sort of monster lives)
Tapping inside a location brings up information about it in the top left of the screen. (and a yellow arrow on the map shows which location it is talking about)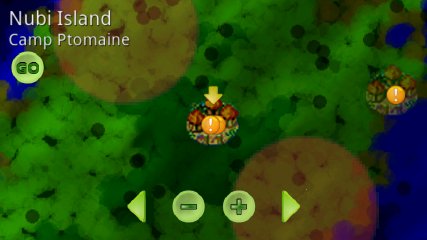 If you have previously visited the location, and it is a teleport destination, then a GO button will also appear. Tapping that will initiate a teleport (or flight) to that location.
Teleport destinations are usually 'safe' locations with no monsters nearby. Often you will find NPCs offering quests in such locations.
That yellow arrow is also your current NAV POINT and when you return to the main game, the radar compass will show a gray dot on the edge of the compass, indicating the location of the NAV POINT. Walk into the light...
Questing
Generally speaking a quest starts when you accept the offer from some NPC (Non-Player-Character). It then requires you to go somewhere and collect something, then to go to its turn-in NPC to get credit.
To tell the story in pictures:
You're wandering the map, when you encounter a golden dot on your radar/compass (that circle in the top right of the screen). You approach and see you have met up with the "Fishing Master."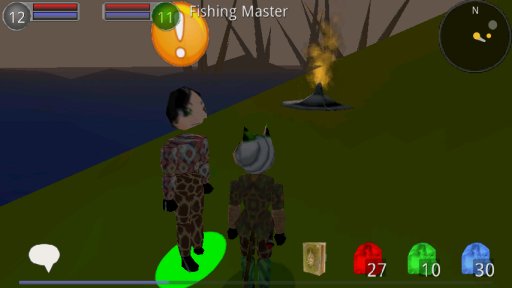 He has an exclamation mark over his head to let you know he has a quest for you. To learn more about it, you need to talk to him. You do that by making the Fishing Master your target (gets that special green shadow, coz he's friendly) and then pressing the CHAT button which appeared in the 'target actions' along the bottom left.
This opens the Quest Dialog: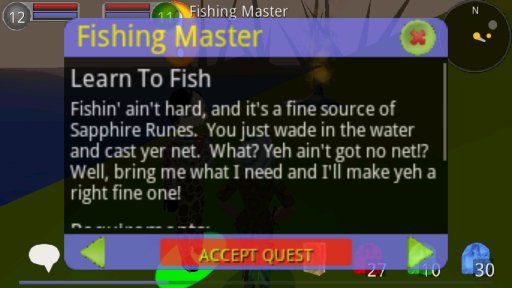 If he has more than one quest to offer you, the green arrow buttons along the bottom would let you switch between them.
If the quest description is long, we use our finger to drag the description up so we can read the rest: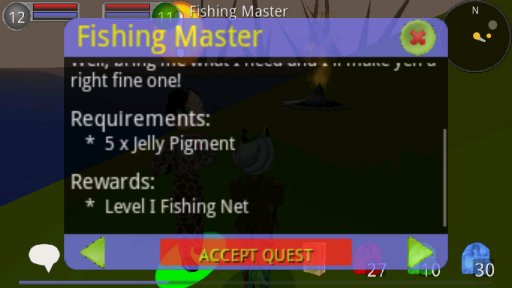 We see that he wants us to collect 5 "Jelly Pigments".
That fishing net looks desirable to us, plus we're a Hero, so we LIKE to help people. So we press the ACCEPT QUEST button. (We can't collect any Jelly Pigments until we have accepted the quest.)
Now the exclamation mark over his head disappears and is replaced by a silver question mark. This means he is the turn-in point for at least one quest, but that we haven't yet met the requirements of that quest (at which point the question mark will turn gold).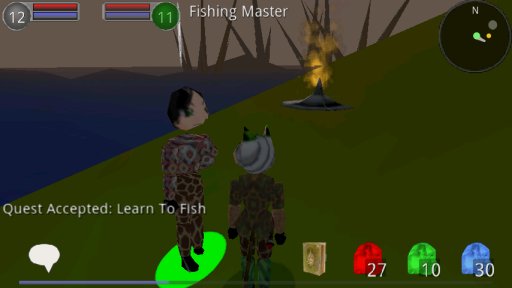 So, let's go collect some Jelly Pigments!
Looking for red dots on the compass is an easy way to find bad guys, and luckily for us there are lots of Jellys a short walk from the Fishing Master.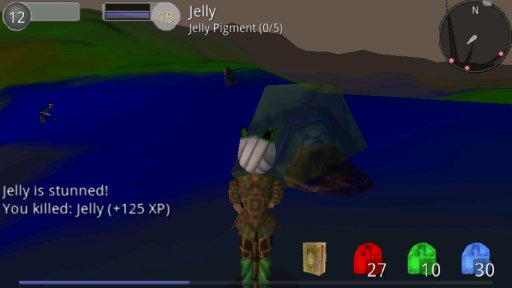 The enemy name tag includes a little extra info to let us see our progress in meeting the quest requirements. (Here we see we have so far collected 0 of the required 5 pigments.)
Tapping an enemy nametag lets you 'talk' to the enemy. If that enemy is part of a quest, this opens a special version of the Quest Dialog with a list of all quests relating to that enemy.
When you kill a quest-related enemy, you will get credit for the kill and might get a drop of a quest-related item (a 'trophy'). You might also get non-quest-related 'drops' (like runes).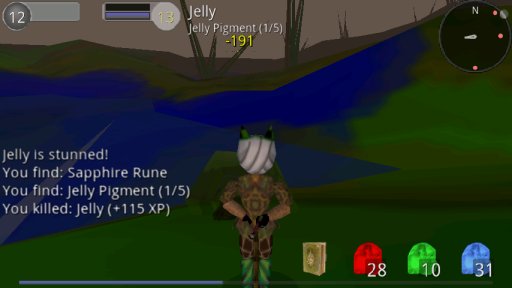 And when you meet the final requirement of a quest, you will also get some notification to remind you.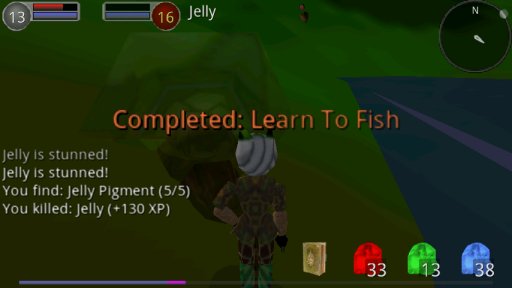 OK, now what? Where's our fishing net? They said there would be cake! Then we remember that we have to return to the turn-in point, which in this case is back to the Fishing master.
If we don't remember where he was, we need to use the map.
To open the map, tap the Compass (circle in the top right of the screen). This switches you to Map Mode (press the android BACK key to return to the game).
You can drag the map around and zoom in and out.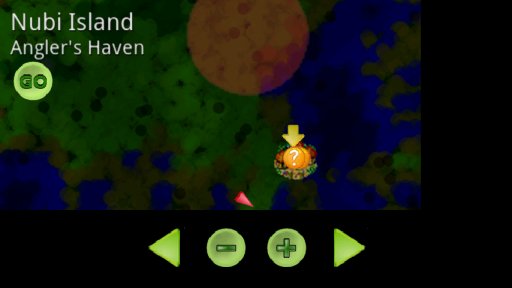 And we see our golden question mark down in Angler's Haven. We could walk there, but this village turns out to be a teleport destination, so we are offered a GO button, which we press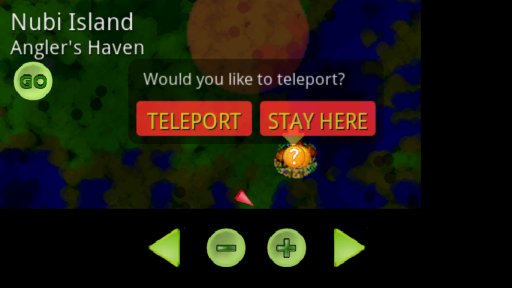 Upon our arrival in camp, it is easy to find the Fishing Master, both because of his golden dot on the radar, and the large golden question mark over his head..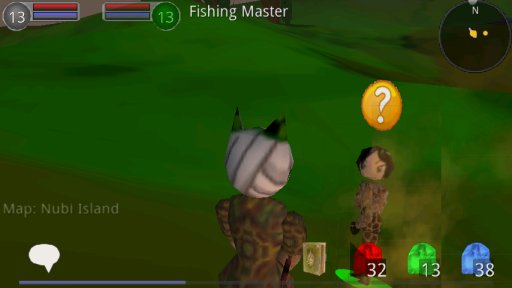 To collect our reward, we need to talk to him again, so we make sure he's the selected target and then tap the chat button again.
He is happy to see us!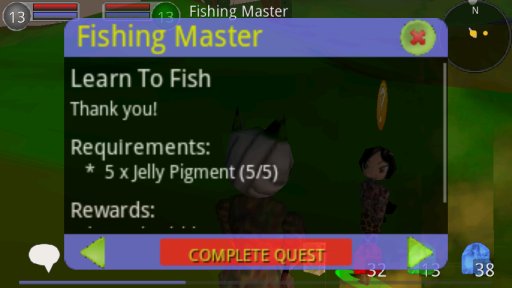 We press the COMPLETE QUEST button to collect our reward and this quest is done!
Being an RPG, he will probably offer us yet another quest, as he is unable to do anything for himself and has become a needy weak sister! (obscure movie reference, not sister-bashing!)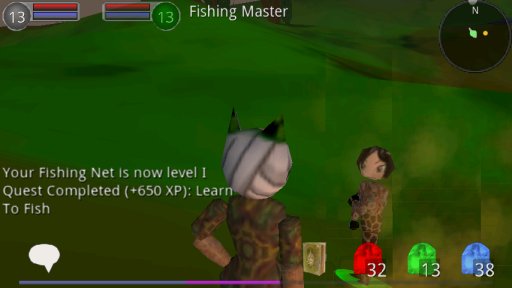 And that's how you do a quest!
Options
From the android menu key, select OPTIONs to open the options dialog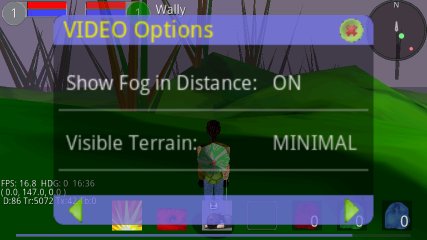 The left and right arrow keys at the bottom select between different option categories: GAME/VIDEO/AUDIO and DEBUG.
Video Options are generally about turning down the graphic complexity in order to get a better frame rate on your phone.
Audio Options are generally about not irritating your neighbors.
The Debug Options are there for my development convenience, but feel free to mess with them. For example, turn off WATER and see how your frame rate is affected.
Debug Display
OK, so the nerds in the audience want to know what those debug numbers in the lower left are: (These only appear if you enable "Show FPS" in the Debug Options)
FPS (frames per second)
HDG (your character's heading, in degrees, 0 = 'north', 90 = 'east')
HH:MM the current time of day in game (a full take passed in just a few minutes, with the sky color changing to match)
(x,y,z) Your character's location, in meters, on the current map. (Y is 'up' (elevation))
D: number of Open GL 'draw' calls per second.
Tr: number of triangles drawn per second
Tx: number of textures bound per second
Tb: number of textures 'uploaded' per second
There's always a trade-off between performance and appearance. I would really like to get 30 fps on my Droid, and 15fps on the lowest-end phones that can play the game at all. But sadly, that's not yet the case.